Description
Features
Nutritional Information
Wine Pairing & Recipes
Anchovies - Imported from Sicily
IMPORTED ITALIAN ANCHOVIES, from Sicily
Flat fillets packed in olive oil. Wonderful on your antipasto, pizza, or salads. Full plump fillets that are imported from Sicily, so good!
Now Available with red pepper
3.7 oz
Merro Brand
Ingredients:
1 small onion, minced 1 garlic clove, minced fresh ground black pepper 1 lb linquine or fettuccine 1 jars Fortuna's anchovies
Directions: Cook your pasta ala dente pour the oil from anchoveies over top and toss then set aside
Add olive oil to a skillet, enough to coat all the pasta when done approx 1/4 cup. Saute the garlic & onions in the olive oil. Add the sliced or chopped anchovies and a nice big pinch of crushed red pepper & plenty of black pepper too! Put the pasta back in the saute pan and toss all together , add grated cheese to taste ! Mangia ! My family had this recipe on New Years Eve to ring in the New Year with Good Luck !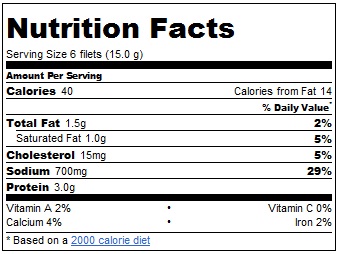 Ingredients Serves: 8 1 (500g) pack spaghetti 4 tablespoons olive oil 3 cloves garlic, crushed 1 jar anchovy fillets, drained and chopped 100g (4 oz) dried breadcrumbs handful chopped fresh parsley ground black pepper to taste 4 tablespoons freshly grated Parmesan cheese (optional) Save to favorites -------------------------------------------------------------------------------- Preparation method Prep: 10 mins | Cook: 5 mins 1.Cook spaghetti according to packet instructions; drain. 2.Meanwhile, in a medium frying pan, heat olive oil over medium heat and add garlic and anchovies to cook for about 2 minutes; stir constantly. 3.Stir in breadcrumbs and turn off heat. Add parsley and pepper; mix. 4.Toss anchovy sauce with hot pasta and sprinkle with cheese; serve.
Additional Details
Product Code:

Anch

UPC: