Description
Features
Nutritional Information
Wine Pairing & Recipes
Cotecchino Modena - Imported from Italy
Cooked Cotecchino Modena
According to tradition, Cotecchino Modena first appeared in 1511 in Mirandola (Modena). Our Pre-cooked Cotecchino Modena is a deli meat product made from a mix of top quality pork, lean and fatty cuts, and pigs bred in Italy. Then it is seasoned with natural flavorings and spices, filled in casings and tied by hand at both ends. Perfect on top of pizza, slice and eat with Italian bread, or just the best in lentil soup!
To Eat: simply plunge the bag in a pot full of water, bring water to boiling and let boil for 20 minutes. This flavor bursting specialty has a rich and slightly spicy taste, full of aroma. When cutting, slices look rosy red and compact. Does not contain gluten and lactose
Cotecchino Modena - Imported from Italy
The
cotecchino
is an
Italian
charcuterie
product, similar to
salami
, but requiring cooking; usually it is boiled at low heat for about four hours. Its name comes from
cotica
(rind), but it may take different names in the different production areas. According to tradition, it is served with
lentils
on New Year's Eve, because lentils"due to their shape"are 'credited' to bring money for the coming year.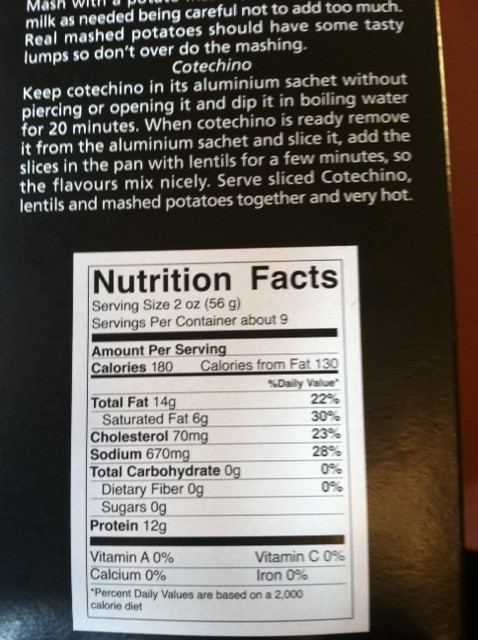 COTECCHINO & LENTILS
Ingredients
2 pounds cotecchino sausage
2 tablespoons extra-virgin olive oil
3 tablespoons finely chopped onion
1 medium carrot, finely chopped
1 large celery stalk, finely chopped plus whole celery leaves for garnish
1 small garlic clove, gently smashed and peeled
1 1/2 cups small lentils, rinsed and drained
1 bay leaf
Salt
Freshly ground black pepper
Directions:
Cotechino, cook in simmering water for 30 to 40 minutes.
When cotecchino, is simmering, heat oil in a medium saucepan over medium heat. Add onion and carrot. Reduce heat to medium-low and cook, stirring occasionally, until softened, about 5 minutes. Add celery and garlic; cook, stirring, 2 to 3 minutes more. Add lentils and bay leaf; stir to combine. Add water to cover the lentils by 1 inch. Bring to a gentle simmer and cook, stirring occasionally and adding liquid from cotechino, as necessary, to keep lentils covered, until tender, 30 to 40 minutes. Drain any liquid from pot; remove and discard garlic and bay leaf; season to taste with salt and pepper. Spoon lentils onto serving plates.
Transfer sausage to a cutting board and cut into 1 â?" 3-inch-thick slices; arrange on top of lentils. Garnish with celery leaves. Serve warm.
Ensure good luck in the New Year, an Italian tradition
Additional Details
Product Code:

511030

UPC: