Description
Features
Nutritional Information
Wine Pairing & Recipes
Gran Moravia
- Aged cheese from Italy
Gran Moravia is a hard cheese produced with traditional copper vats and then slowly and long aged. Gran Moravia cheese is an aged cheese produced following the oldest Italian tradition that comes from the production of traditional Italian aged cheeses such as Parmigiano Reggiano (Parmesan) and Grana Padano with traditional copper vats, in the fabulous region of Moravia.
Gran Moravia has an intense and nutty taste. The flavor of Gran Moravia enriches any single dish. It is ideal both as table cheese or grated, in shaves or cubes, and it can be served as a fancy starter, as an appetizer or at the end of the meal together with seasonal fruits.
7 oz Wedge
Long-aged cheese
Eco-sustainable Chain
Suitable for Vegetarians
Halal certified
Naturally lactose free
Gran Moravia aged cheese from Italy
Something New!
Gran Moravia aged cheese:
Is lactose-free
Contains vitamins and minerals, a precious source for health
Gran Moravia is a cheese with a high content of fat-soluble vitamins (vitamins A – D – K – E) and a number of minerals.
Ingredients:
Milk
, salt, rennet from vegetable culture. Preservative: lysozyme
egg
protein.
Avg Values for 100 g

Calories

1573 kJ
378 kcal
Total Fat
Sat Fat
28 g
20 g
Total Carbs
Sugars
0,6 g
0,0 g

Proteins

31 g

Salt

1,4 g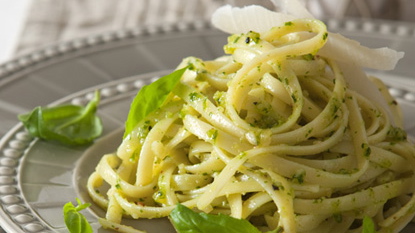 Linguine with Gran Moravia & Basil
INGREDIENTS (4 servings)
– 400 g (1 lbs) pasta ( linguine would be the best choice)
– 100 g ( 3,5 oz) grated Gran Moravia
– 1/2 clove of garlic
– 100 g (7 tbsp) Fortuna's evo oil and 1 pinch of salt
– 50 g (2 oz) Fresh basil
– 15 g ( 0,5 oz) pine nuts
The easy, quick and fresh recipe of basil pesto is perfect for a summer lunch but can delight you during any season. It is originally from Genova area, located in the italian region Liguria.
PREPARATION:
Start preparing pesto alla Genovese, cleanse the basil leaves with a humid cloth or in a bowl with cold water (do not use hot water or the direct water stream).
Put garlic, a pinch of salt, basil leaves, pine nuts and Gran Moravia hard cheese in a mixer. Blend these ingredients together until they are finely minced. Add the oil and mix again, until you reach a creamy texture of a nice brilliant green color.
Cook the pasta in a large pan with boiling salted water.
Put the pesto in a large frying pan, add some water from the pasta pan to heat the pesto.
Once the pasta is ready, thus "al dente�, drain it and pour it in the pesto pan. Toss well until the creamy Gran Moravia basil pesto is well incorporated.
Serve hot, with a sprinkle of Gran Moravia hard cheese, some pine nuts and some basil leaf.
Take a look at our recipe!
Additional Details
Product Code:

GM127

UPC: