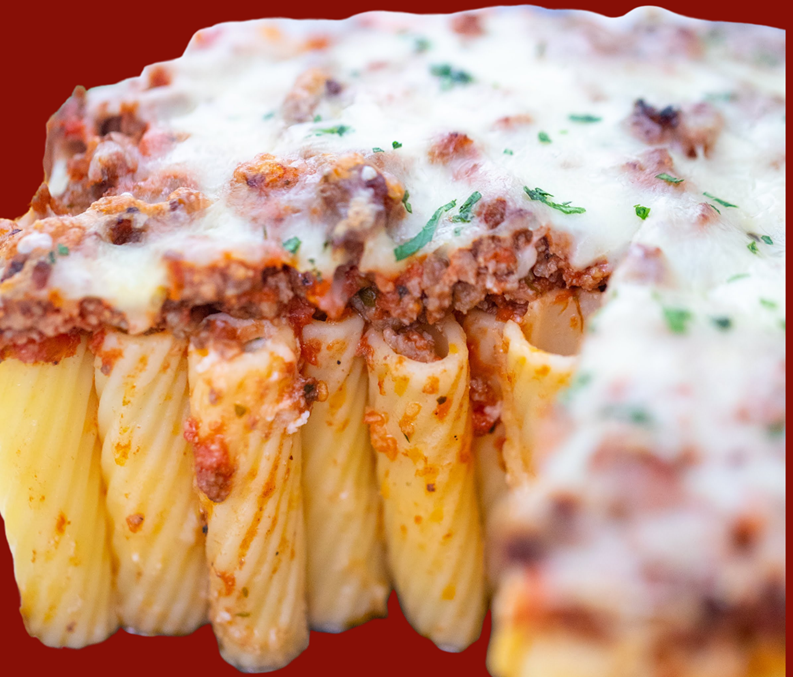 1 lb Tortiglioni pasta
1 cup parmesan - finely grated
1 container ricotta - 8 oz
1 cup Shredded Scamorza
½ cup grated parmesan
2 eggs - beaten
1 teaspoon parsley
Use your favorite meat sauce or make ours (below)
Method
Preheat oven to 400 F (200 C).
Cook the Tortiglione in boiling, salted water, about 1 minute less than package directions. Drain then toss with the parmesan cheese in a large bowl.
Lightly oil a 9" springform pan and pack the rigatoni in tightly, standing on their ends. If you don't have a spring pan you can use a glass casserole pan
To make the filling:
In a medium bowl, mix together the ricotta, parmesan, eggs and parsley until well combined, then set aside. Use an immersion blender for a creamy sauce
To make our meat sauce:
Heat the oil in a large skillet over medium high heat, add the 1 lb ground beef and ½ lb Italian sausage (casing removed) and cook until cooked through.
Add a can of plum tomatoes, crushed and 1 tbls spoon Mutti tomato paste and simmer over medium-low heat until most of the liquid has cooked away - about 20 minutes.
While the sauce is cooking, fill the rigatoni with the cheese filling. Use a pastry tube is the easiest to pipe the filling into the tortiglione pasta, filling each one about ½ full – add a light layer of the scamorza then top with a ladle of sauce so all ingredients go into the tubes.
Bake in the oven for about 15 minutes, then remove and sprinkle more scamorza over the top and bake for another 10-15 minutes until melted and bubbly
Let rest about 15 minutes before removing the form and serving.
BUY THE PRODUCTS FEATURED IN THIS RECIPE:
YOU MAY ALSO ENJOY: