Description
Features
Nutritional Information
Wine Pairing & Recipes
Pinwheel Thin Italian Rope Sausage
This great sausage you can smell and see on the streets of festivals!
Pinwheel Cheese & Parsley Sausage, made slightly different than our other rope sausages. You may have seen this in your local meat markets with skewers going through which holds it together on the grill as in photo. (sticks not included for shipping purposes)
Made with pork, Romano pecorino, parsley and a touch of white wine & spices.
Extra lean - slow cook on your grill tonight!
Freezes great too!
Packed 3 - 1.lb packages-
Express shipping included in offer
*Sorry this can only be shipped within the USA
Express shipping included in price

Please be advised that this is a perishable product, shipped in insulated packaging with ice gel packs. Product must be refrigerated or frozen immediately upon arrival -- Fortuna's Sausage Co is not responsible for product spoilage due to missed delivery or improper storage


Please note:
Fresh Italian Sausages ship Monday, Tues, Wed only
UPS overnight shipping is included in price.
No signature is required
Phone # is required for delivery address
Product is perishable -refrigerate upon receiving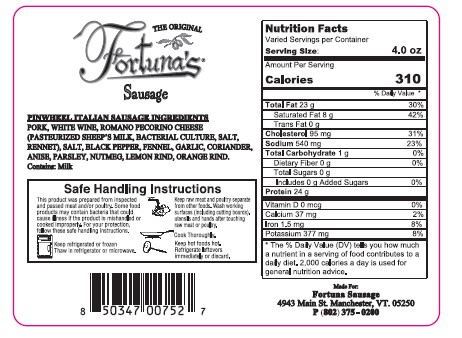 Grilling sticks not included for shipping purposes
Additional Details
Product Code:

Frs-CP

UPC: