Description
Features
Nutritional Information
Wine Pairing & Recipes
Casarecce Peperoncino pasta from Italy-Pasta Conte
S

hort twists of pasta, which appear rolled up on themselves

Twisted shape makes it perfect for holding sauces

Made with Calabrian hot chili peppers

Looking for a little zip of heat to your pasta, we now have Casarecce Peperoncino pasta direct from Calabria, Italy.
Pasta Conte, an artisanal pasta is the result of the experience gained over the years by a small Calabrese company that, with so much passion, has focused on quality, managing to make itself known to consumers attentive to good nutrition.
The durum wheat blends used are carefully selected by Italian mills that deal exclusively with continuity and raw materials with high health value.
The semolina is characterized by a high protein index, low ash and a golden yellow grain color so as to guarantee the finished product a pleasant taste.
Water, without any impurities, used at a controlled temperature helps to enhance the taste of pasta.
Drying is static, at low temperatures and over a day long.
"The love for our product and the constant attention we pay to each of our production processes makes us satisfied and proud of our work."
-Andrea Conte
Imported from Calabria Italy, this family pasta company has been making pasta with their family recipes

Weight: 500g (1 lb)
Region:Calabria, Italy

Casarecce Peperoncino pasta from Italy-Pasta Conte
Made with Calabrian chili peppers
Artisan Made
1 lb / 500g
Durum Wheat Pasta
Product of Calabria Italy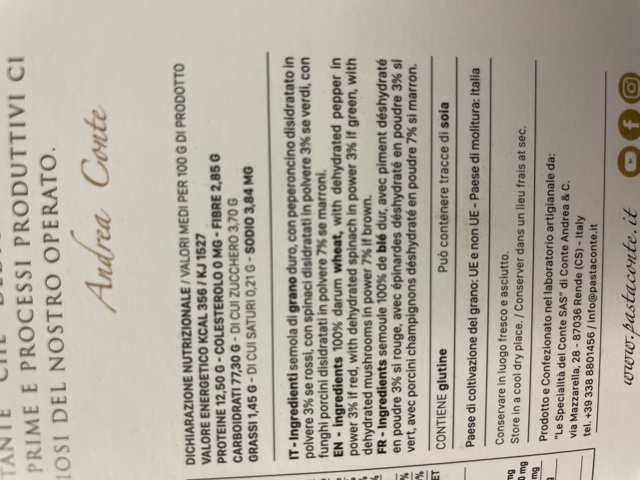 Made with true Italian Chili pepper!
Additional Details
Product Code:

CP-915

UPC: