Description
Features
Nutritional Information
Wine Pairing & Recipes
Grana Padano-
new larger size !
Grana Padano is a wonderful semi-fat hard cheese which is matured slowly. It may be used as a table cheese or for grating. A golden, oily rind encases a white or straw-colored fine-grained cheese with crumbly fissures radiating outwards from the center. The taste is fragrant and delicate, similar to a Reggiano Parmesan. Grate on soup, pasta or in sauces. Grana Padano is an Italian, DOP, cow's milk cheese. Its name is derived from the Italian word "grana" which translates as "grain" to describe its hard and grainy texture, and "Padano" which refers to the "Val Padana," the cheeses origin in the Po River Valley. The cheese was originally created in the 12th Century by Cistercian monks. It is a Parmesan cheese that most closely resembles Parmigiano Reggiano in appearances and in its method of production.


What is the difference between Reggiano and Grana Padano :
Grana Padano is made from both skim and whole milk while the Parmigiano Reggiano is made only from skim milk.

Grana Padano being creamier and slightly less saltier that the Parmigiano Reggiano

The Cows have different diets – the Grana Padano cows are less restricted in their diet and are allowed to eat silage in their feed while the Parmigiano Reggiano cows must be fed fresh or dried vegetable matter.

Grana Padano comes from a larger area of productio

n.
Imported from Italy - Aprrox 10-12 oz wedge
Region:

Along Po River Valley (Piemonte, Lombardia, and Veneto)
Imported from Italy.
Grana Padano
10-12 oz wedge
alternative to Reggiano parmigiano
INGREDIENTS: cow's milk, culture, rennet, salt, egg white lysozyme
Serving Size 1 oz.=28 gr. (1 inch cube)
Gat Cal. 60 % Daily Value*
Total Fat 7g........................10%
Saturated Fat 4.5g...............22%
Cholesterol 25mg.................9%
Sodium 230 mg....................9%
Potassium 25mg...................1%
Total Carbohydrate 0g..........0%
Dietary Fiber 0g....................0%
Protein 9g.............................22%
*Percent of daily values are based on a 2000 calorie diet.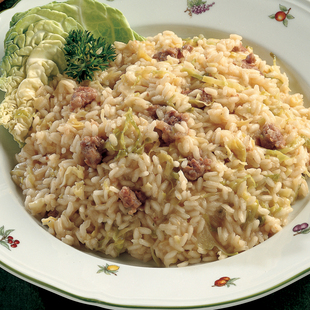 RECIPE:
Sausage with Savoy Cabbage and Grana Padano
Ingredients 2 tablespoons extra-virgin olive oil 2½ tablespoons unsalted butter ¾ pound Savoy cabbage, cored and thinly sliced 1 small onion, finely chopped ½ pound of our sweet Italian sausage, removed from casings 2 cups arborio rice ½ cup dry white wine 6 cups lower-sodium chicken broth, heated to a simmer ¼ cup freshly grated Grana Padano cheese Salt Freshly ground black pepper Instructions Heat oil and 1½ tablespoons butter in a heavy large saucepan over medium-low heat. Add cabbage and onion; cook, stirring occasionally, until vegetables are softened, about 8 minutes. Add sausage and stir to combine. Add rice and cook, stirring constantly, for 5 minutes. Add wine and 1 cup broth; cook, stirring, until liquid is mostly absorbed, about 7 minutes. Add ½ cup more broth and cook, stirring, until mostly absorbed. Repeat, adding liquid in ½ cupfuls, until rice is tender yet still slightly firm to the bite (you may not use all the broth). Stir in remaining tablespoon butter and cheese. Season to taste with salt and pepper and serve immediately.
Try our recipe ! Just click
Additional Details
Product Code:

GP11

UPC: