Description
Features
Nutritional Information
Wine Pairing & Recipes
Italian Rope or Link Sausage - mix or match
LEAN PORK & THE FINEST SPICES ARE USED TO MAKE OUR ITALIAN ROPE SAUSAGE!

Mix and Match your favorites- Choose 3 flavors


Shipped to your door.
Express shipping included in offer.
Includes

- Each package of rope sausage is 1.lb

Choose 3 of the same or mix and match your favorites from the drop down box
Calabrese - nice and very hot
Hot- just a mildly hot
Tuscano - with sun dried tomato, and sharp Provolone cheese & Pepperoncini
Sweet - With fennel
Pinwheel
Pepperoni Italian Sausage Links
Combo Pack Hot & Sweet Italian Links
Turkey Italian Sausage
Maple Breakfast Sausage Links

Sorry this can only ship in the Cont. USA
Only the BEST Italian Sausage made high quality farmed pork and the finest spices.
*Sorry this can only be shipped within the Continental USA
Express shipping included in price

Please be advised that this is a perishable product, shipped in insulated packaging with ice gel packs. Product must be refrigerated or frozen immediately upon arrival -- Fortuna's Sausage Co is not responsible for product spoilage due to missed delivery or improper storage


Please note:
Fresh Italian Sausages ship Monday , Tues, Wed only
UPS express shipping is included in price.
No signature is required
Phone # is required for delivery address
Product is perishable -refrigerate upon receiving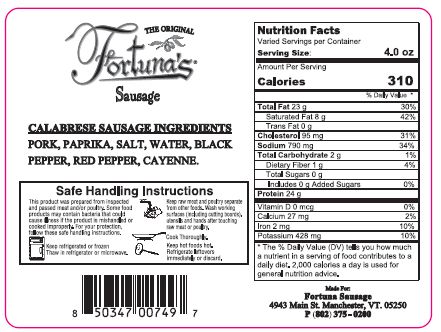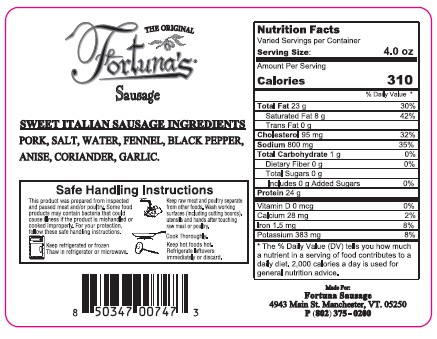 Lean & delicious Italian Sausage!
Additional Details
Product Code:

Frs

UPC: