Description
Features
Nutritional Information
Wine Pairing & Recipes
Carnaroli Rice, Imported from Italy
Considered the King of Italian rice, Carnaroli kernels are the longest and thickest of the

superfino

rice.
This long oval grain contains the highest concentration of starch resulting in superior texture when making a velvety risotto. Because of its thickness, the rice keeps al dente even after cooking, making it the preferred choice for top chefs. Used mostly for making risotto where the rice is the star, such as Risotto with Barolo or Risotto with Truffles
Net wgt. 1.1 lb/ 500 grams - NEW PACKAGING
Region:Piedmont Italy

Estate grown,
Carniroli_Rice from Piedmonte- The King of Rice
500 grams / 1.1 lb
Carnaroli Cacio e Pepe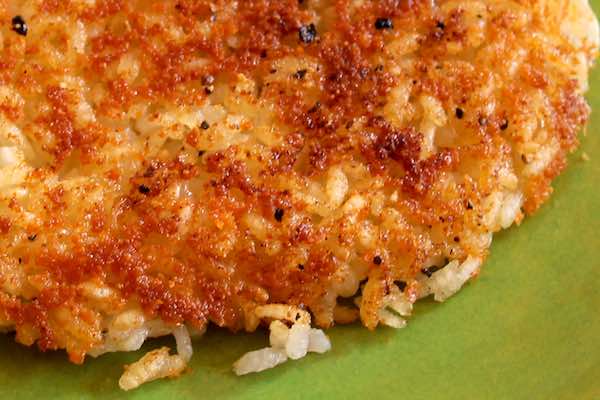 Ingredients:
1 tablespoon butter
Grated Pecorino Romano
Fresh ground pepper to taste
Directions
To pre-cook the rice: Bring a large pot of salted water to a boil. Add rice to the boiling water, and cook until al dente, approximately 12 minutes.
Drain rice, and spread lightly with your fingers on a baking sheet to cool (this helps it retain its al dente texture). Allow to cool.
To prepare the dish: Heat a small nonstick pan over medium to medium-high heat. Add butter to pan and warm until bubbly, browned, and nutty, about 4 minutes.
Sprinkle grated pecorino to cover the bottom of the pan in a thin layer (like a pancake).Grind pepper over the pecorino using the coarsest setting of your pepper grinder or using a mortar and pestle.Then spread the cooked carnaroli into an even layer, about a 1/2� thick, over the cheese and pepper.
Cook over medium to medium-high heat and let sit untouched like a riso al salto. You will think you are burning it, but let it be! Once the rice is beginning to cook, sprinkle on another layer of pecorino.
You'll begin to hear regular, loud cracking sounds from the cooking cheese and rice. Use a spoon to tamp down around the sides, and help the rice come together in a dish shape. Continue to let it crack away.
When you can shake the pan and the rice cake is no longer stuck to the bottom of the pan, your dish is ready.
Cover the pan with a plate and flip the rice cake onto the plate. Enjoy
Take a look at this recipe – yes, please! Carnaroli has the perfect texture and chew to give structure to this addictive dish, living up to the title, "king of Italian rice."
Additional Details
Product Code:

30207

UPC: