Description
Features
Nutritional Information
Wine Pairing & Recipes
Mantova Balsamic Vinegar Glaze- White
The fruity, yet tart, flavor of our glaze perfectly complements both sweet and savory ingredients. Marinate or brush onto meats, poultry, or fish; or drizzle onto fruit, ice cream, brownies, salads, pasta, pizza, rice, veggies, or cheese. Spread a layer of glaze onto artisan bread for a delicious sandwich. Baste vegetables and roast in the oven for a tasty treat. Swirl the glaze onto a plate to add a touch of drama to any meal.

8.5 fl oz

Traditional vinegar, reduced to a silky, smooth glaze

Ready for everyday use; perfect for desserts, pasta sauces, marinades, salad dressings, and vinaigrettes or (our favorite) drizzled over cheese

Region : Modena, Modena is a city on the south side of the Po Valley, in the Province of Modena in the Emilia-Romagna region of Italy
Mantova Balsamic Vinegar Glaze
White Condiment (white wine vinegar, concentrated grape must), concentrated grape must, glucose syrup, modified starch. Contains sulfites.
GRILLED CHICKEN BREAST with honey and balsamic glaze
4 pcs boneless chicken breast
2 table spoons honey
2 tablespoons Balsamic Glaze
1 cup orange juice
salt and pepper to taste
Marinate the chicken breasts (in a ziplock bag works great) with the orange juice , S&P and 2 Tbls honey for approx 1 hour or longer
Heat outdoor grill med high heat cook chicken breasts a few minutes on each side.
Baste side one with balsamic glaze, then other and cook until done - basting with more glaze if needed. For a special treat add one Tbls of honey to the glaze.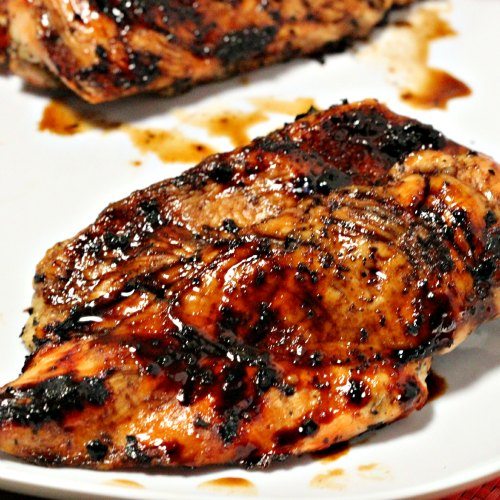 Additional Details
Product Code:

MBGZ

UPC: