Description
Features
Nutritional Information
Wine Pairing & Recipes
Bucatini pasta imported from Italy-Pasta Conte
Bucatini, also known as Perciatelli.

Thick spaghetti-like pasta with a hole running through the center!

Bucatini is common throughout Lazio, particularly Rome.
Pasta Conte, an artisanal pasta is the result of the experience gained over the years by a small Calabrese company with so much passion focused on quality and managing to make itself known to consumers for good nutrition.
The durum wheat blends used are carefully selected by Italian mills, exclusively, for continuity and raw materials with high health value.
The semolina is characterized by a high protein index, low ash, and a golden yellow grain color. This guarantees the finished product has pleasant taste.
Pure quality controlled water is used at a controlled temperature helps to enhance the flavor of the pasta.
The static drying process is done at low temperatures for over a day.
"The love for our product and the constant attention we pay to each of our production processes makes us satisfied and proud of our work."
-Andrea Conte
Imported from Calabria Italy, this family owned pasta company has been making pasta with their family originated recipes.

Weight: 500g (1 lb)
Region:Calabria, Italy

Bucatini pasta imported from Italy-Pasta Conte
T

hick spaghetti-like pasta with a hole running through the center

Artisan Made
1 lb / 500g
Durum Wheat Pasta
Product of Calabria Italy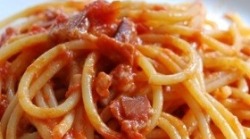 The original Amatriciana, or matriciana (the recipe would appear to originate from the town of Amatrice in Rieti), does not call for onion, garlic or pancetta, only guanciale.
Bucatini all'Amatriciana
Ingredients for 6 servings
Time 1 hour
Amatriciana Ingredients
2 cans of Mutti Roma Tomato or 3 cups of San Marzano tomato
1 lb bucatini
1/2 - 3/4 cup chopped guanciale
3 Tbls or more grated pecorino romano cheese
2 dried hot peppers -to taste but meant to be spicy
Fortuna's extra-virgin olive oil
salt
pepper
Amatriciana Original Recipe- fast & easy
Remove the rind from guanciale, cut it into slices and then strips.
Brown the pork cheek in a saucepan with just a drop of olive oil, or cook it in a drop of water, as called for in the original recipe. After a few minutes, add the chopped chillies, the quantity depends on your personal taste.
Add the tomatoes and juice. Salt to taste. Cover and cook for about 50 mins . Boil the pasta until al dente, drain and put it back into the hot pan.
Add the sauce. Serve immediately topped with some grated pecorino and a pinch of black pepper.
Bucatini aslso known as Percatelli
Additional Details
Product Code:

CP-914

UPC: