Description
Features
Nutritional Information
Wine Pairing & Recipes
Calabrese Pancetta,
made in the USA by Fortuna's
At last it's here and ready! Our own Calabrese style Pancetta, Italian Bacon

We add true Calabrian hot and sweet pepper, and hand rub our special spice blend and naturally dry cured!

Produced from fresh, hand-selected, trimmed pork bellies that are cured and seasoned with freshly cracked black pepper, red pepper, salt and spice. Perfect sliced thin as part of your charcuterie board, dice it and fry and add to your carbonara ... endless possibilities

FYI: Calabrese style is flat - like slab bacon.

Hand cut approx 14 -16 oz. piece
Ready to eat
Refrigerate or freeze for up to 6 months
Calabrese Pancetta, made in USA by Fortuna's.
*Sorry this can only be shipped within the USA

Please note:
Product is perishable - refrigerate upon receiving
Hand Cut pieces are approx -14-16 oz each
Pasta Carbonara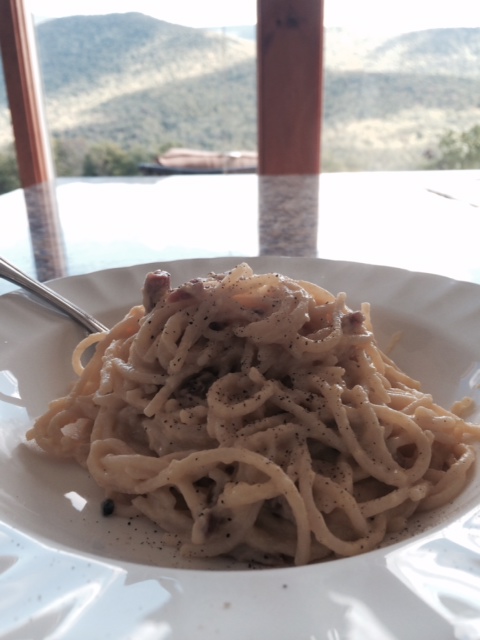 Serves 4-6
Prep time 20 minute or less
1/2 lb diced Pancetta, coppa or guanciale

2 cloves chopped fine garlic

2 eggs

1 1/2 cups of

Sunday Blend

Olive oil

Salt and black pepper
In large saute pan add olive oil, garlic and coppa, guanciale or pancetta and saute until softened but not browned.
Cook pasta as per instruction until al dente, drain and add to saute pan of oil and coppa, guanciale or pancetta (reserve 1 cup of pasta water for later). Turn heat to low.
In separate bowl beat raw egg with about 1/2 of the grated cheese, salt and pepper.
Gently stir in egg mixture to pasta on low heat, tossing gently as not to break pasta but blending well and not letting the egg scramble. Add some pasta water here to make it creamy. Once heated through and creamy remove from heat.
Toss in remaining cheese, and add a bit more black pepper and serve immediately.
Try our Carbonara recipe!
Additional Details
Product Code:

CPAN

UPC: