Description
Features
Nutritional Information
Wine Pairing & Recipes
Italian Style Guanciale,
made in the USA -
Guanciale with herbs as seen on Rachael Ray !!
Also, As seen on Stanley Tucci's Searching for Italy & Giada & Bobby Flay in Italy


Guanciale (pronounced gwan-cha-leh) is a triangular cured meat from a pig's jowl, with one or two streaks of lean meat. It is different from pancetta, which comes from the pig's belly. Guanciale is aged at least 3 months after being lightly rubbed with salt and covered with ground black pepper.
The consistency of the meat, the intensity of the aroma and flavor, and the high quality of the tasty fat part are unmistakable features that have always made this the preferred ingredient in traditional regional dishes – especially dishes made Amatriciana-style (see recipe in the "Wine Pairings and Recipes" tab). Guanciale is also an ingredient in pasta alla gricia and pasta alla carbonara, two cult favorites in the Lazio tradition.
How To Keep It Fresh
Guanciale must always be kept in a cool, dry place, and it should be consumed within a fairly short period of time. Once cut, it retains its goodness for one month at the most, so it is necessary to protect the part exposed to the air with a cheesecloth and leave it in the refrigerator, or even better, in a well-ventilated cellar. Refrigerate upon arrival
NEW SIZE - Hand cut- each piece approx 1.25 - 1.5 lb wedge


Guanciale is an Italian cured meat product prepared from pork jowl or cheeks. Its name is derived from guancia, the Italian word for 'cheek'. Wikipedia

Guanciale, Italian style- Plain or Herb (Rosemary and Bay )
*Sorry this can only be shipped within the USA

Please note:
Product is perishable -refrigerate upon receiving
hand cut 1 - 1.25 lb. approx
Choose from drop down plain or rosemary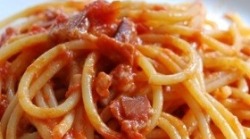 The original Amatriciana, or matriciana (the recipe would appear to originate from the town of Amatrice in Rieti), does not call for onion, garlic or pancetta, only guanciale.
Bucatini all'Amatriciana
Ingredients for 6 servings
Time 1 hour
Amatriciana Ingredients
2 cans of Mutti Roma Tomato or 3 cups of San Marzano tomato
1 lb bucatini
1/2 - 3/4 cup chopped guanciale
3 Tbls or more grated pecorino romano cheese
2 dried hot peppers -to taste but meant to be spicy
Fortuna's extra-virgin olive oil
salt
pepper
Amatriciana Original Recipe- fast & easy
Remove the rind from guanciale, cut it into slices and then strips.
Brown the pork cheek in a saucepan with just a drop of olive oil, or cook it in a drop of water, as called for in the original recipe. After a few minutes, add the chopped chillies, the quantity depends on your personal taste.
Add the tomatoes and juice. Salt to taste. Cover and cook for about 50 mins . Boil the pasta until al dente, drain and put it back into the hot pan.
Add the sauce. Serve immediately topped with some grated pecorino and a pinch of black pepper.
Additional Details
Product Code:

GCL

UPC: