Description
Features
Nutritional Information
Wine Pairing & Recipes
Fortuna's Own Pasta Sauces
Fortuna's own recipe!
MARINARA ~ PUTTANESCA - FRA DIAVLO - VODKA
Use them on pizza, with seafood or pasta or dipping sauces!
Our chunky marinara sauce is loaded with flavors of fresh garlic, basil, and only the best tomatoes.
Puttanesca has Marinara as a base then added capers and olives minced fine.
Fra Diavlo nice touch of heat with red pepper!
Our newest sauce is VODKA sauce , yes made with real cream!
All are delicious if you're looking for that great Italian red sauce flavor!

NOW AVAILABLE BY THE CASE (one flavor per case) 12 jars per case

All Natural Ingredients
26 oz jars -Ready to heat and serve
Pasta Sauce by Fortuna's
Sunday memories we all cherish...walking into Nani's kitchen, the aroma filling the room from a pot of sauce simmering all day on the stove. With fresh tomatoes and basil, garlic cloves, hand grated cheese and that special ingredient "tender loving care" that made Nani's sauce so unforgettable.
Bring back the "Sunday family dinner" feeling of Nani's kitchen on any day with Fortuna's Sauces!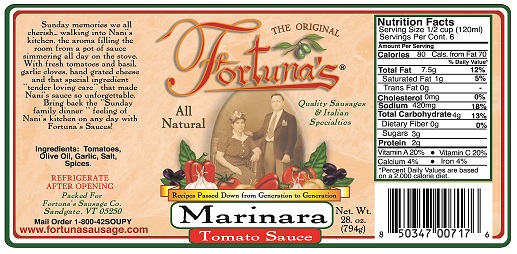 Made with all natural ingredients!
Additional Details
Product Code:

TPS

UPC: