Description
Features
Nutritional Information
Wine Pairing & Recipes
Ditali Lisci from Italy-Pasta Conte
imported from Italy
Ditali Lisci is a pasta shaped like tubes or cylinders. They are actually quite small when dry, about a 1/2 inch. But once cooked they more than double in size!

Which worked out nicely with the prosciutto and peas as the peas get caught in the tube (recipe below) or in soups and great finger food for kids.
Pasta Conte , an artisanal pasta is the result of the experience gained over the years by a small Calabrese company that, with so much passion, has focused on quality, managing to make itself known to consumers attentive to good nutrition.
The durum wheat blends used are carefully selected by Italian mills that deal exclusively with continuity and raw materials with high health value.
The semolina is characterized by a high protein index, low ash and a golden yellow grain color so as to guarantee the finished product a pleasant taste.
Water, without any impurities, used at a controlled temperature helps to enhance the taste of pasta.
Drying is static, at low temperatures and over a day long.
"The love for our product and the constant attention we pay to each of our production processes makes us satisfied and proud of our work."
-Andrea Conte
Imported from Calabria Italy, this family pasta company has been making pasta with their family recipes

Weight: 500g (1 lb)
Region:Calabria, Italy

Ditali Lisci from Italy-Pasta Conte
New this season
Artisan Made
cooking time 11-13 minutes
1/2 inch cut tube
1 lb / 500g
Durum Wheat Pasta
Product of Calabria Italy
Ditali with Prosciutto & Peas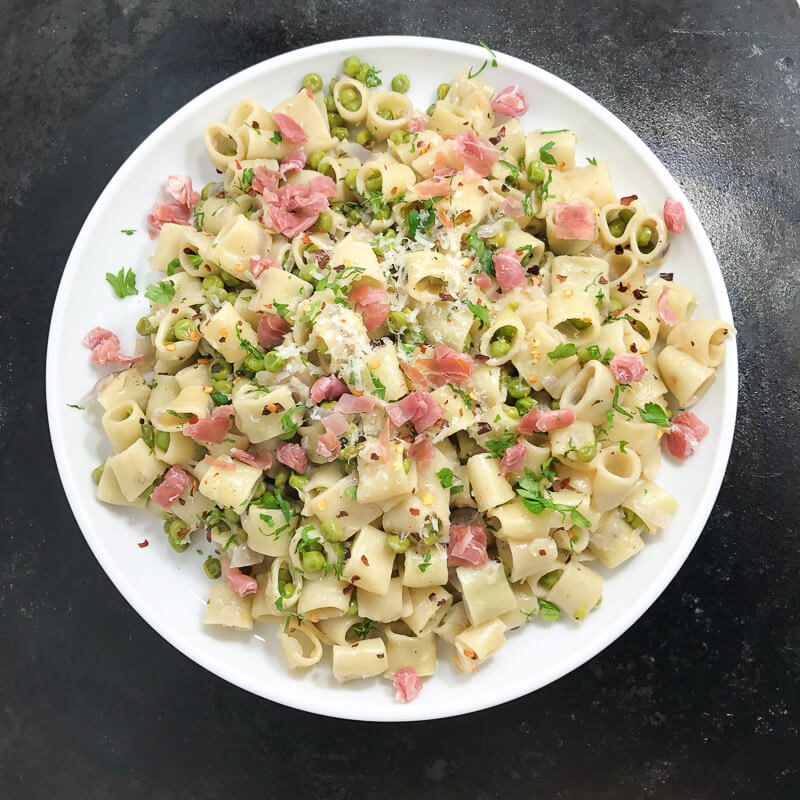 1

pound Ditali Lisci

3 Tbsp

olive oil

1 cup

red onion (chopped)

4

cloves garlic (peeled)

3 cups

fresh or frozen peas

3 cups

low chicken stock homemade or store bought wrks fine+ more if liquid evaporates before pasta is cooked

8oz

prosciutto or guanciale (chopped)
1/4 cup or more to taste Pecorino Romano cheese
red pepper flakes, salt and cracked black pepper
INSTRUCTIONS
Heat the oil in a large pot on medium and add onions. Cook for 4-7 minutes until soft, stirring occasionally.
Add the frozen peas and some fresh cracked black pepper and cook until peas are fully cooked, stirring occasionally ~5 minutes.
Add broth to the pot and bring to a boil. Add dried pasta and stir to distribute the pasta in the liquid. Cover leaving lid slightly open and cook the pasta until al dente, stirring occasionally and scrape the bottom of the pot. **
Top with chopped prosciutto, red pepper, freshly grated cheese . Let sit a bit to absorb all the flavors
Check out a recipe we love!
Additional Details
Product Code:

CP-854

UPC: