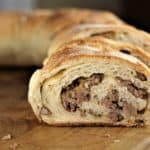 Sicilian Sausage Bread Round
For the dough: (Or buy pre made pizza dough if you're in a hurry)
1 1/3 cups warm water
1 package dry yeast (8 grams or 2 1/4 tsp)
3 1/2 cups all-purpose flour
2 tbsp olive oil
2 tsp salt
1 tbsp granulated sugar
For the filling:
To prepare the dough:
In a large bowl or the bowl of your stand mixer, combine the warm water and yeast. Let stand about 10 minutes.

Add olive oil, salt, sugar and flour. Mix by hand until a dough is formed. Knead for about 10 minutes until the dough is smooth and elastic.
If using a stand mixer, use the dough hook to mix the ingredients on low speed for 1 minute. Increase to medium speed and kneed for 7 minutes.
Transfer dough to a large bowl lightly coated with olive oil and turn it once to coat both sides with oil. Cover with plastic wrap and let rise in a warm place until doubled in bulk, about 2 hours.
For the filling:
While the dough is rising, prepare onions and sausage. In a large skillet on medium heat, sauté the onions in olive oil until golden, about 10 minutes. Transfer to a bowl and let cool.
In the same skillet, brown the sausage until no longer pink. Transfer to a bowl and let cool.
Preheat oven to 400F and cover a baking sheet with parchment paper.
To assemble:
Once the dough has risen, transfer it to a well floured counter top. Begin flattening the dough using the tips of your fingers to stretch it out. Next, use a rolling pin to roll out the dough into approximately a 24"x 16" rectangle, as shown.
Evenly spread out the onions on the dough, followed by the sausage.
Roll the dough in a jelly roll fashion beginning with the long end closest to you. Once rolled, cut off excess loose dough on each end and shape into a small bun.
Transfer the rolled dough on the parchment covered baking sheet. Connect both ends to form a circle. Cut a few slits on the top and let rest, covered, for 1 hour.
Bake for 15 minutes, then reduce oven to 350F and bake for 20-25 minutes until golden. Let cool about 15 minutes before cutting into wedges.